Just a little update. I did some experimenting and found out that my ball joints bind before the tie rods hit the frame or the tires hit the wells. So I'm pretty much as low as I can get with this setup. I also found out the expensive way that the Bus Boys "short" shocks are exactly the same length as stock shocks. Also found out that they are Gas-a-just's for a S-10 or something with a spacer that goes in one of the eyelets. I could have bought them locally for a fraction of the price. This didn't matter much because the ball joints bind before the shocks bottom out anyway. But they are a nice shock and I really like the way it rides. I raised the rear just a little and I'm pretty happy with the current stance.
My wife and I teamed up a made some curtains for the back windows. Here's the material:
The colors work and it has sort of a worldly globe trotter feel.
Instead of messing around with wires or slides we just put snaps on them. So when we go camping we can just snap them in for the night.
Our inaugural outing was a 250 mile round trip to the Manistee National Forest (MI). The bus did great. I'm looking forward to many more fun adventures in it this summer. I'll be making little improvements but won't be doing anything major on it until the coming winter.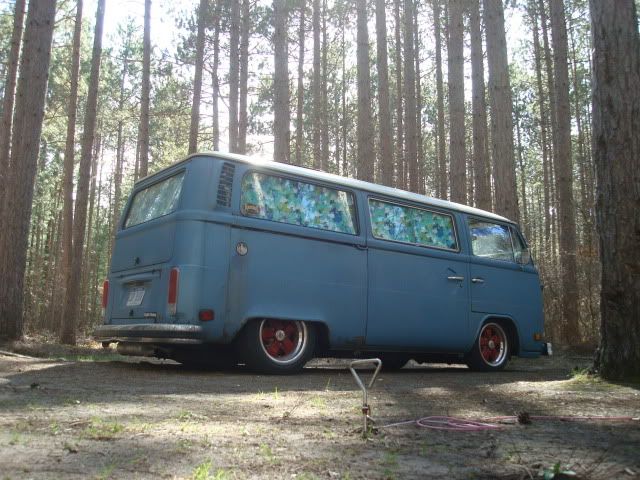 [/img]