Let me set the scene.....
It was a crisp spring Friday morning in 2012, Myself and the boys arrive at a small rural reserve in country Victoria Australia.
Immediately after exiting our vehicles we are met with a visual and aural fest of automotive delights. The whole day was spent in awe of the men and women enjoying what seemed to be the best time of their live's. It was Chopped! A traditional rod and Kustom festival, music, dirt drags, show and shine etc!
The question was how can we get a piece of the action next year? We'd need the right vehicle. Volksrod? mmm maybe.
But it wasn't till we saw this thing roll by......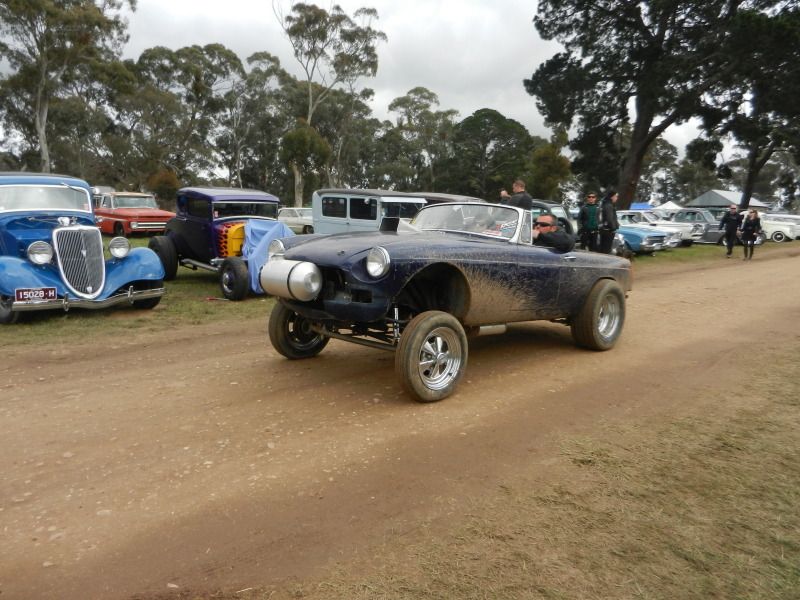 Then the penny dropped, it had to be a gasser! No, it
had
to be a Ghia Gasser!
Months went past and the we were all busy with other projects, then two weeks out from our Easter show, we realised we hadn't built
that
car. We always try and do something a little off the wall for this show, ie; slammed Country Buggy, Heb Coupe or Polizei Notch.
In Mick's words "Let's get a start on the Gasser!"
The breif was to have it running and driving for Easter, now with the deadline less than 2 weeks away we got stuck in.
One of the lads, Dr Pat, has had this imported Ghia Cabrio for a while, which has been through more than it's fair share of owners......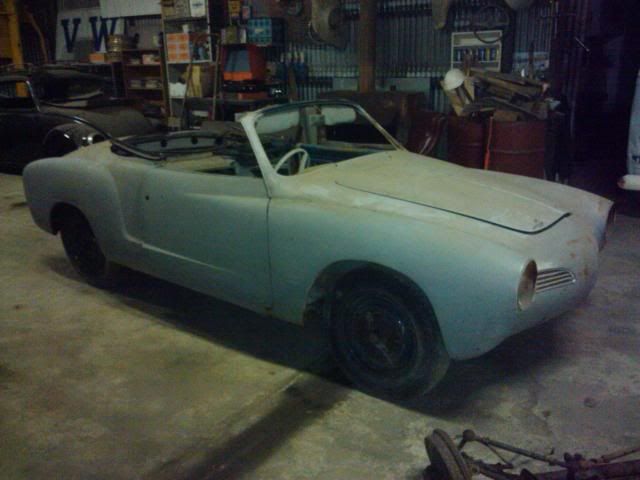 A quick look over deemed it suitable for the job, the first hurdle though was the dash and steering had been converted to RHD but the pan was still LHD, but there were no pedals for either configuation.
In a strange twist of fate I got a phone call from a local Hotrodder who is building an imported '59 Beetle Cab and wanted to buy some bits for a RHD conversion.
The answer was clear, LHD car with a RHD dash........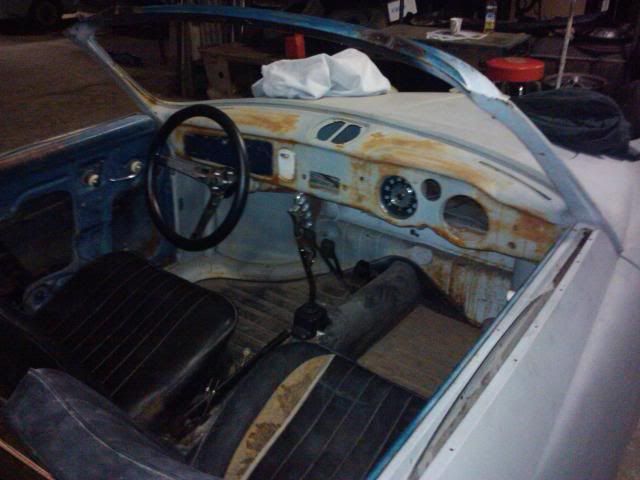 Mick and Fingers set themselves to work putting together the Baja beam and I ripped the heart from a lowlight bus of my Dad's........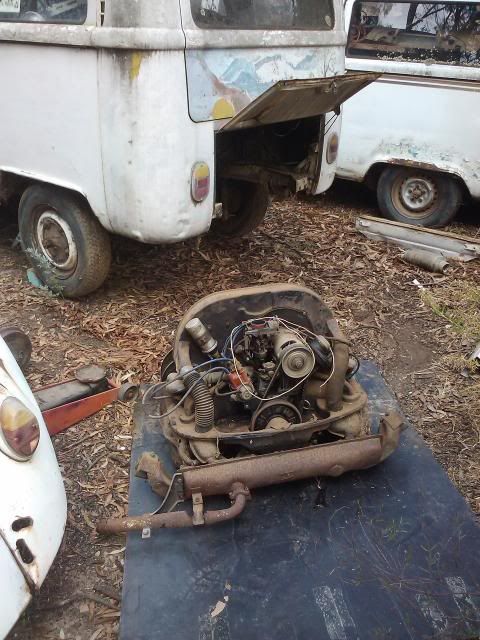 A night's work later and the beam was in, It was decided that it needed missmatched rims, Mick had some 4 1/2" Mangles and Jase had the Mooneye's rims for the back.....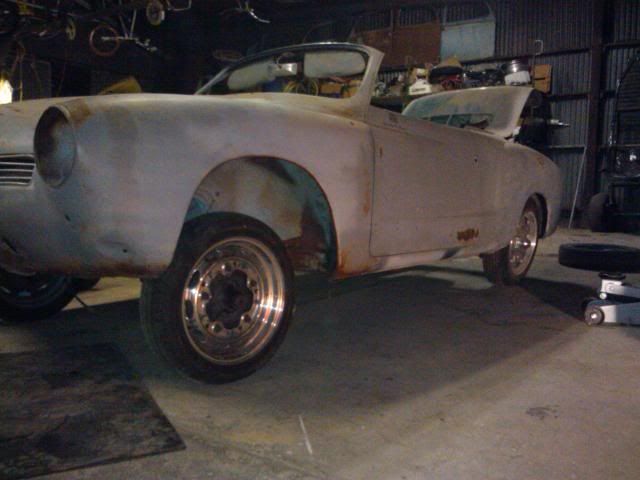 As you can see the rims looked great but the tyres were all wrong, I did a few calcs, and reckoned we could squeeze some 215's under the rear...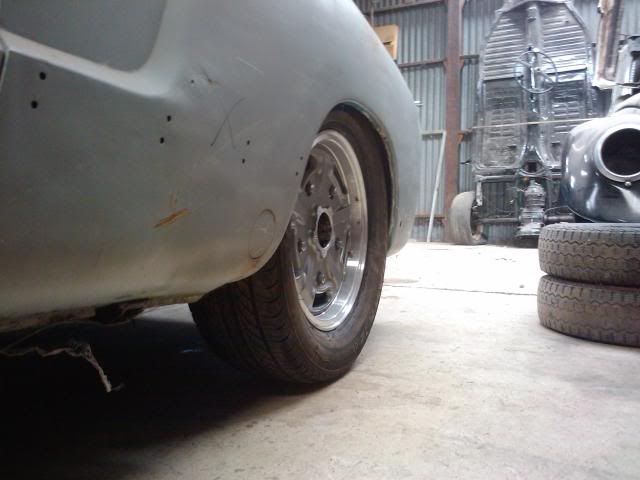 They just fitted with less than 5mm gap inside and out.
At the same time the smart car front's were swapped out for some tall 145's and the rear was dropped a spline.......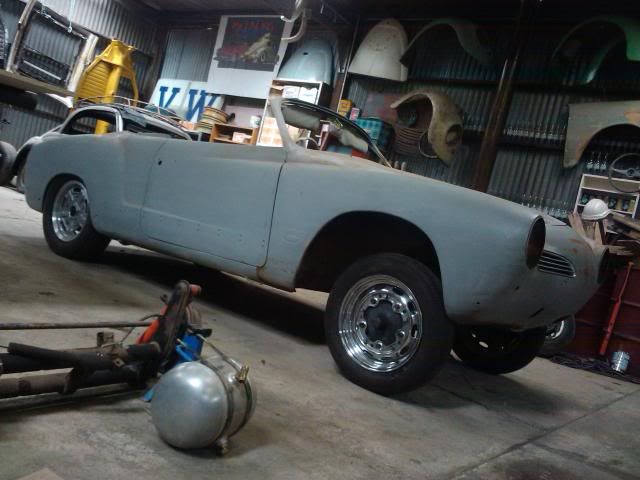 The look was begining to come together.
We knew the engine needed the heads tightening down, and a quick strip down found that every gasket was leaking. Once everything was checked over. Micked pulled a rabbit outta his hat in the form of some metalflake purple tinware. My boy Brodie got stuck in and finished off the final assembly........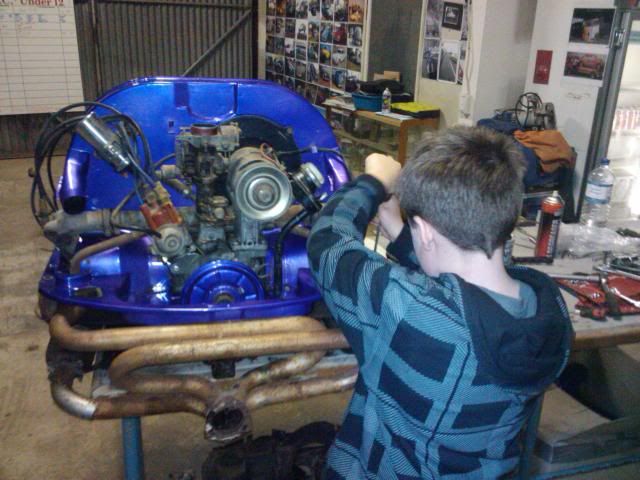 Danny and the Jack (2Dots and the Prospect) had done a sterling job on a new loom and swich gear and with only a few days left to go I decided to take the Thursday off work and concentrate on getting all the little jobs buttoned up, steering, hand brake, pedals, clutch etc etc.
Thusday night saw us bolting in the donk, Jor-ge donated a fuel tank and we fired it up. Dissaster struck when the only thing heard above the open headers was a death knock. Hearts sank and we called it a night.
I spent friday pondering what could have been and thought what the hell we'll take it anyway, I fired it up again, did the timing and tuned the carb, still knocking badly.
I jumped in the seat to test the clutch/gears and couldn't help myself and gave it a couple of good stabs on the throttle, Well fuck me! whatever it was either disslodged or free'd up cos it was purring like a kitten :lol:
Dr Pat brought in a stash of lights to go through and came through with a set of blue dot tail lights, Jase found his set of T-bars. After a couple of celebration beers we loaded it up.
It was a real hit at the show, with most people not "getting" it and with some folk knowing exactly what was going on!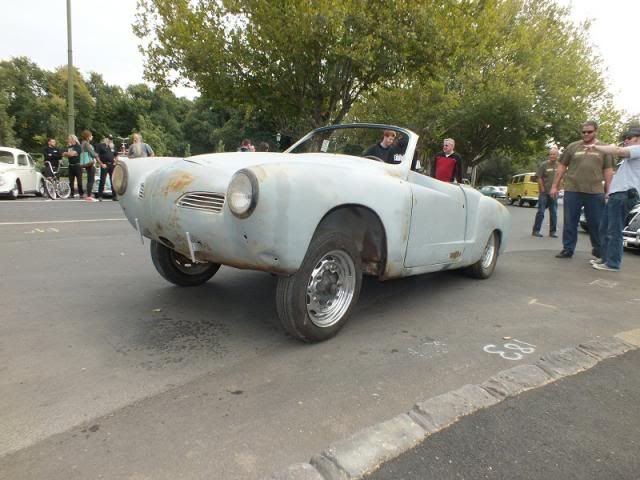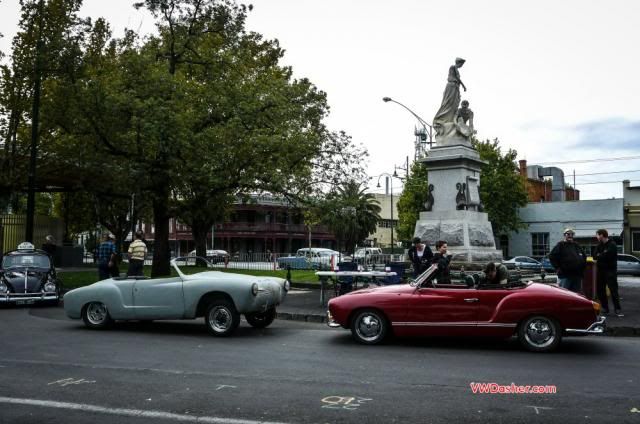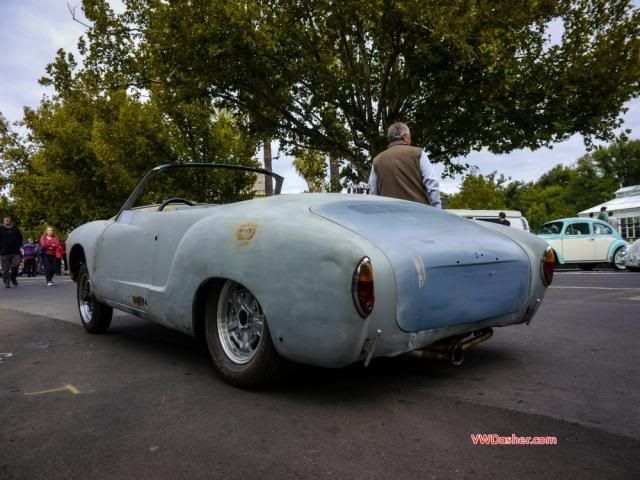 It couldn't have come together without the help of all the Squadron 8)
So that's the story up to 2012 ;)