Hi Folks,
Yes, an Audi V8… but first a little introduction. My name is Grant, Im an Australian, living in Hong Kong. I've been in Hong Kong for 16 years and have had little opportunity to scratch my car-building itchy spots. I've had a few nice rides, but that aint the same as building stuff now is it?
In 2005 I found myself a house with a one car garage, (that is a HUGE ask in Hong Kong) and in 06-07 I built myself an Ultima GTR. It has a 580hp supercharged LS2, Porsche G50 trans, AP racing brakes, etc etc. That certainly got the car building juices flowing.
I also own a 1965 Pontianc Tempest that lives in Chicago. I had it built for last year's Hot Rod Power Tour with the intention of leaving it there so I can come back a few times per year and race it. Its in the November issue of Car Craft and in the coming issue of Hot Rod magazine. You'll also start to see it feature in Tremec ads in magazines etc. It is a "pro-touring" style car, full mandrel bent chassis, coil overs all round, 13.5" Baer Brakes, 550hp LS3/LS7 hybrid, Tremec 5 speed... I had it built by Jeff Schwartz... there's a build page here
http://www.schwartzperformance.com/proj ... ojectid=27
he built it in 8 weeks!!! Have a look around his site, he builds some cool stuff, including a 1000hp twin turbo Ultima
http://www.schwartzperformance.com/proj ... ojectid=18
I drove that for about 350 miles on Power Tour.. I thought mine with 580hp was fast... 1000-twin-turbo horsepower is in a TOTALLY different league... my power delivery is linear, when his comes on boost its like being hit by a truck. It spins the wheels at 150mph!!
I've just managed to find a place with a 6000sqft garden and a TWO car garage!!… so now its time to build something new. The Tempest really is a blast, modern drivetrain in an old style car is awesome. Anyway, it handles like a racecar.… so those thoughts led me to the plan for something unique. A mid engined 356.... its somehow I guess a mix of the Ultima and the Tempest
A few of the Ultima guys use the Audi V8. The engine is very short …the centerline of the axles to the front drive pulley is only 690mm. Compare that to 800mm on a G50 with Porsche flat 6…. Its also very light at only 180kg!
In order to make this work in the 356, I am going to have to move the wheelarches back about 4", and possibly run a little bit if driveshaft angle. The lengthening of the wheelbase, along with moving the engine in front of the rear axles is going to completely transform the 356. Here's a before and after photoshop of moving the rear wheel arches back. Im sure I can do this in a way that doesn't ruin the proportions of the car.
I sent these images to John in an introduction and he tells me the owner is here on this site - I hope you dont mind that Ive used the photos of your car.
Now here's a photoshop with the Audi engine + trans scaled to the same scale as the body…. it certainly looks like a plan.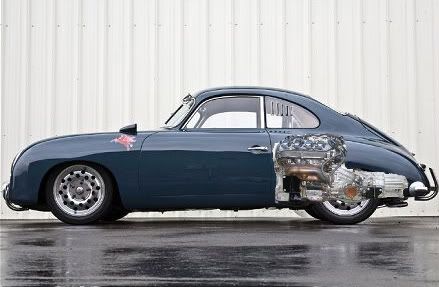 I have a construction company here, and we own a Leica Scanstation... so I am going to do a full laser scan inside and out and will have a proper 3D CAD file of the 356, all the surfaces, inside and out. Im going to design the chassis in that CAD model. I'll be glad to provide copies of the CAD files of the body to anyone that wants them.
It will be a full spaceframe chassis, with double wishbones front and rear (similar to the Ultima), and with Air Ride suspension, modern disc brakes, rack and pinion steering.
Ive secured a donor, I decided to get something with the bodywork done so I can focus on the engineering. Its in Texas, currently being crates ready for shipping over to Hong Kong.
Stay tuned folks.